Lawrencia's Birthday Fundraiser For Little Angels Trust
A Celebration Crowned With A Purpose…
Anniversaries are celebrated to mark the special day in our life which is a remembrance of our birth. Each year comes with so much anticipation and joy to know that one has been graced with another round of 365 days. This is amidst aspirations, commitments, sacrifices, hardships and unforeseen worries of life. Alas, we find so much joy and need to share with our family and loved ones.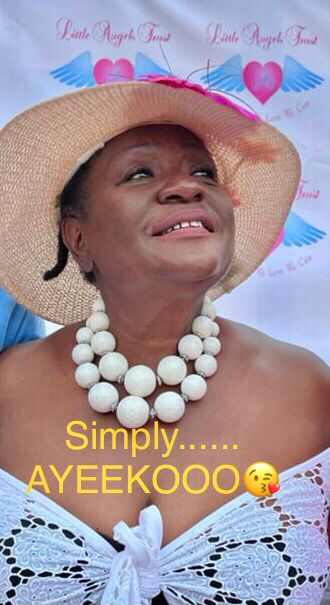 To fulfil a wonderful purpose, a member of the Angelhood and a patron of Little Angels Trust (LAT) chose to celebrate her wonderful milestone of her anniversary in a grand style with a fundraiser for The Trust.
The day was set aside to commemorate her life and impact on family friends and associates. In addition to the day's agenda was a conscious act to increase the awareness of Little Angels Trust and raise some worthy amount of money to cushion the coffers of LAT to push its mission and touch more lives.
The celebrant, Mrs. Lawrencia Simpson in her speech said she has known the Founder all her life. She mentioned that together with other patrons they have supported LAT to continue making headway.
She stated profoundly that, at her newly turned age, she thought of a greater way to support and purposed to set her anniversary as a fundraiser and a medium to make a significant impact on LAT. Hence, the occasion.
A presentation was made by the representation of Little Angels Trust to the gathering on the mission and journey of the organisation, its progress and accomplishments in the selected hospitals and the lives of beneficiaries and families.
Little Angels Trust is a charitable children's organisation founded by Dame Lavinia Enim with the vision to support the health care of special needs children, especially children living with cancer. This programme has been running since 2004 when the vision was birthed in some selected hospitals in Accra which include: the Korle-Bu Teaching Hospital, Princess Marie Hospital, Mamobi General Hospital and the Accra Psychiatric Hospital.
Special events such as regular visits are organised at specific times within the year to spend quality times with the children at the hospital wards and OPDs, share foods, drinks and gift items such as play toys, balloons, clothes, footwear and learning materials. Special recreational centres for respite have been created at these hospitals to serve as playgrounds for the children to have some fun whilst undergoing treatments.
These kind gestures are made possible with the great support of donors and sponsors who have been moved with passion and volunteer angels who have become part of the journey to serve the little angels.
The fundraising was done in forms of sales and auctioning of assorted wines and drinks, beaituful and colourful clothes from the wardrobe of 'The Clothes Room', home appliances and wonderful picture portraits with the celebrant.
The event brought together wonderful loved ones and personalities, working colleagues and amazing family of the celebrant as well as patrons and representatives of LAT. There was so much joy and fun amidst eating, drinking and dancing.
The day was crowned as a fulfilled one as the purpose for the event was accomplished. Some supporters of The Trust shared their reflections of the day as successful and inspiring. With others saying it was a worthy course. They revealed that their motivation to be supporters of LAT stemmed from the founder's passion for the relief and comfort of the little angels to enjoy their God given lives even during their times of pain as they undergo treatments for the ailment they unknowingly suffer.
Report by: Angela Nhyira Kwabi for Little Angels Trust (LAT).